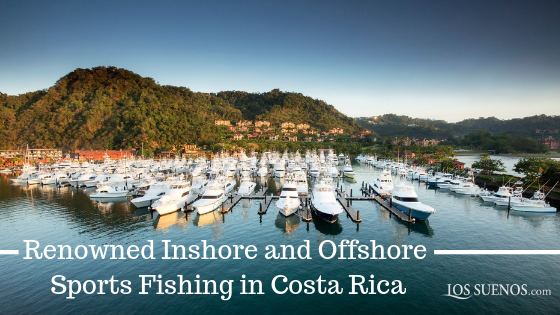 As you vacation in beautiful Los Sueños, take advantage of its world-renowned sports fishing. Costa Rica is known for its diverse species, both at sea and on land. As you vacation—whether you're new to fishing or a seasoned competitor in the area's Billfish Tournaments—try your hand at sports fishing. Here we provide a comprehensive guide to inshore and offshore sports fishing in Costa Rica.
Inshore Sports Fishing
Costa Rica's inshore fishing is just as incredible as its offshore fishing. Inshore fishing is defined as within 30 miles from shore, typically in hot spots around coves and reefs. Inshore fishing is a more family-friendly option—a lot of charters for inshore fishing allow more time for swimming and relaxation.
You'll find some incredible species on Costa Rica's Pacific coast. You can catch a lot more fish while inshore fishing, but you won't catch the bigger varieties.
Where to Go       
Many locations along the Pacific coast have terrific inshore fishing opportunities. The primary species you'll find there don't migrate, so no single location is better than another. Areas like the Golfo de Nicoya—right off the coast of Los Sueños—Golfo Dulce, Quepos, the Gulf of Papagayo, and Tamarindo are wonderful places to start. Having a captain who knows the best spots for inshore fishing is critical for a successful trip.
Fish You'll Catch
The Most Popular: The Roosterfish
One of the most sought-after fish in Costa Rica, the roosterfish can be caught year-round. Its popularity comes in part from its appearance; it derives its name "from the spectacular seven spine comb on the dorsal fin." The fish averages 10 to 15 pounds, but 50- to 70-pound roosterfish are not uncommon. Los Sueños is also a hot spot for Gray FishTag Research's roosterfish tagging program, which provides scientists with invaluable insight into migration patterns, fish stocks, growth rates, and more.
Other Species You'll Find:
Cubera snapper
Rock snapper
Amberjack
Snook
Sierra and Spanish mackerel
Offshore Sports Fishing
There is an ongoing debate on what Costa Rica is most famous for: inshore or offshore fishing. The fertile currents of the Pacific Ocean, combined with the fully-stocked coast, make Costa Rica one of the best offshore fishing spots in the world.
You can catch massive fish here—the big-game fishing in Costa Rica is world-renowned, and you won't want to miss the chances to hook a huge one.
Where to Go
When booking an offshore trip, you'll want to pay attention to areas with accessible charter fleets. Los Sueños is the perfect starting point for offshore adventures. Other offshore locations include Golfito, Drake Bay, and Quepos, which is well-known as the host the Offshore World Championship.
Fish You'll Catch
The Primary Targets: Pacific Sailfish & Blue Marlin
Blue marlin are one of the largest fish in the world, averaging between 200 and 400 pounds. Sport fishers everywhere strive to capture the famed marlin. Pacific sailfish, which can put up quite the fight, are also found in the central Pacific year-round. These two species—more generally known as billfish—make Costa Rica a sport fisherman's dream. In fact, as the host of the annual Billfish Tournaments, Los Sueños is known as the Billfish Capital of the World.
Other Species You'll Find:
Mahi mahi
Yellowfin tuna
Striped marlin
Black marlin
Wahoo
Los Sueños is the first and most successful government-sanctioned marina to operate in Costa Rica. It offers a full-service port for numerous luxury sport fishing boats in the area. As you take in the endless beauty of Costa Rica, make sure you stay in Los Sueños' luxury beachfront real estate to get the best of the very best.