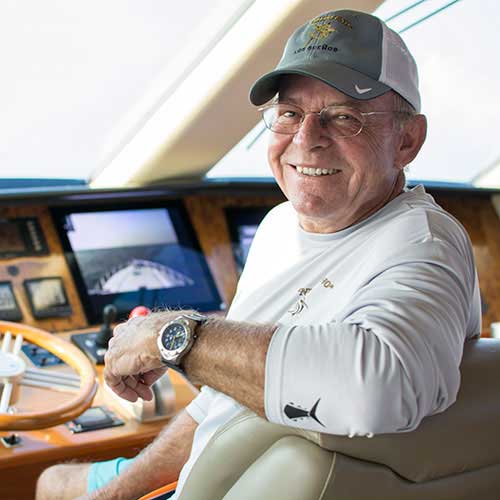 In 1991, while cruising the Pacific Coast, Californian developer William Royster dropped anchor in Herradura Bay. He was immediately captivated with the region's natural beauty, unique topography and the warmth of the Costa Rican people, and envisioned the creation of a world-renowned destination resort community at that site.
After purchasing an 1,100 acre parcel of land that was home to 400 head of cattle and free roaming horses, Royster began six years of feasibility studies that would ultimately lead to the development of the Los Sueños Master Plan. One of his key accomplishments was to establish good working relationships with the various government institutions responsible for development, planning and environmental protection, which resulted in the Costa Rican government adopting new policies and regulations to strengthen the tourism industry. Los Sueños Resort was declared a project of national interest, and the country's first Marina Law was enacted based on the environmental, construction and operational standards that had been established by Los Sueños Resort.
Construction commenced in 1997 with major infrastructure, including a vast drainage network, sewage treatment plant and road system. At the same time, Royster's staff began an ambitious reforestation program that reclaimed 200 acres of the rainforest that had been destroyed by cattle farming and resulted in the return of many native species to the area.
The resort's hotel and golf course were inaugurated on the eve of the millennium, and the first of 1000 projected residences were delivered that same year. Costa Rican President Miguel Angel Rodriguez personally laid the cornerstone for Los Sueños Marina, which officially opened to the public in 2001. Construction of the 200 slips and 80 dry storage units was completed in 2003, and the first phase of the Marina Village commercial center opened in December 2003.
The efforts and expertise of Royster and his partners Paladin Realty Partners (formerly William E. Simon and Sons Realty) and Braemar Homes have made Los Sueños the most successful resort development in Costa Rica. Nearly 550 luxury residences and home sites have been conveyed to date, a sales record that is unprecedented in the region. Los Sueños Marina is considered the hottest destination in Latin America for its world-class facilities and renowned billfishery, and the Los Sueños Marriott Ocean & Golf Resort is enjoying enviable occupancy rates year-round.
The next eight years will see the completion of the remaining phases of Marina Village, conveyance of all 1000 luxury residences and the construction of an eco-lodge in the rainforest reserve.